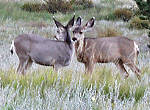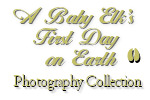 Tips for Observing & Photographing Mule Deer in the Wild
Mule Deer can best be observed during early mornings and later afternoons. These are the times that Mule Deer are out foraging for their food. Look into the grasses and on the hillsides to catch a glimpse of them. They tend to prefer the southern hillsides during the cooler days.
Always make slow movements when observing deer. Deer keep their eyes open for any movement. Slow deliberate steps in a straight forward line, pausing now and then will provide you the best results.
Most deer will flee if you attempt approach them. Decades of hunting have caused deer to be very shy and cautious of mankind. Most will run once a vehicle slows or stops. Use of a telephoto lens can help you capture a memorable picture while causing the animals little or no stress.
Avoid using a flash when photographing wildlife. A camera flash can startle them as well as momentarily blind them from dangers in their area.
Avoid making loud noises. Any noise above a whisper will be noticed as a possible threat by wildlife.
Do Not Feed Wildlife. This is illegal in most states and is not healthy for the animals. You will notice in the Winter Gallery, pictures of young mule deer eating cereal on a roadway. I took these pictures following a tourist feeding them cereal from a box. The unknowing tourist with good intent actually risked the lives of these babies. Enjoying their treat so much, these young deer were ignoring the dangers of automobile traffic. I blocked the road with my car and had vehicles pass around me slowly until the deer were done eating. Afterwards I swept the remaining cereal far from the lanes of danger.
Use Caution when observing bucks in rutt. Bucks have been known to attack both cars and humans during their mating season.
Remember... being kind to wildlife has many mutual benefits... Enjoy the beauty which nature has provided for us to enjoy... While trying to make the least impact with your presence as possible... Your efforts will be rewarding...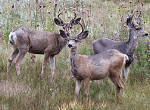 Mule Deer Galleries
Spring Deer
Summer Deer
Autumn Deer
Winter Deer
Mule Deer Main Page